Whether you're getting ready to start a new venture, or looking to grow your business, it's always a good time to establish goals for your business that will set you up for success. To be successful for the long haul, you need to protect your intellectual property. It is your most valuable business asset and deserves your diligent attention.
No business is without risk. And anyone who tells you otherwise is, let's say, less than honest. But there is plenty you can do to mitigate these risks, and much of it comes down to these five resolutions for protecting your intellectual property.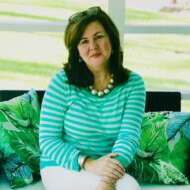 Angie Avard Turner is an attorney with a fancy for all things patterned with a punch of piping hot color.  After almost 20 years in retail, 10 years in wholesale, and 5 years in licensing, Angie decided to give the people what they were asking for—an attorney who was familiar with the needs of the creative entrepreneurs.  She doesn't just represent those in creative industries, she's part of it.  As a designer, artist, and entrepreneur, she understands the legal needs of creative businesses because she has owned and operated one.
​
Angie has always loved being creative;  since she started Hype Strype in 2003, when people learned  she was an attorney too, they were very quick to ask all sorts of legal questions pertaining to running a creative business.  She also knew if she practiced law it would never be in a conventional brick and mortar, "law office" setting.  So now she is combining both of her loves—creative entrepreneurship and law.
​
Her goal is to provide outstanding service by giving sound legal advice and helping you protect your business interests. Here's what Angie believes.  You deserve great service.  Your attorney should be part of your business resources team (just like your accountant or banker).  And last, the legal advice you receive should be easy to understand.
​
In addition to practicing business law and intellectual property law for creatives, Angie is a business consultant for creative businesses.  She helps them devise a strategic plan for launching, marketing, and establishing a solid business foundation for their creative endeavors. She is also a contributing writer to GIFT SHOP Magazine, and several other blogs.  Angie is also a frequent speaker and presenter at various conferences where creative entrepreneurs can be found.
Recently, Angie obtained her LL.M. (stands for Master in Laws) in Intellectual Property. This allows her advanced degree allows her to handle more complex issues pertaining to Copyright, Trademark, Licensing, Entertainment, E-Commerce, and Social Media law.
​